I know many of you are under the weight of paper writing and exams right now. I feel your pain–it was in grad school that I realized how much I wanted to work in fashion. Don't fear–Uniquities is here to give you something pretty to focus on! Take a fashion study break with us and look at all the new beauties!
Take a look at this Trina Turk maxi that just came in.
All you have to do is look at this print and your day will instantly brighten! When our sales rep showed us the resort collection, we couldn't get enough. There is also an amazing pair of shorts in this print–get them now for your spring break and summer trips. These pieces won't live around here very long!
And we loved a shirt dress for Fall; Trina is showing us that we can continue to wear them through the spring! This retro-inspired dress is the perfect desk-to-dinner look, for now, for later, forever!
Oh, and I don't want to leave out some of the new Diane von Furstenberg that also came in today. Easy style from DVF.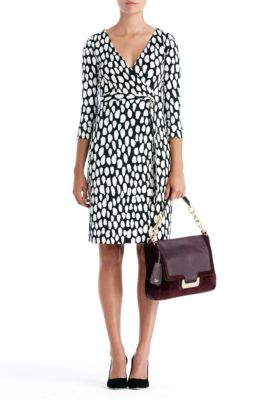 And this last one will become a closet staple for any woman who takes her home.
A shift is timeless. In four season jersey? You better believe it. Perfection!
New things come in all the time–check us out on Facebook and Instagram!